El Reg boost for SETI project
Vulture Central joins search for aliens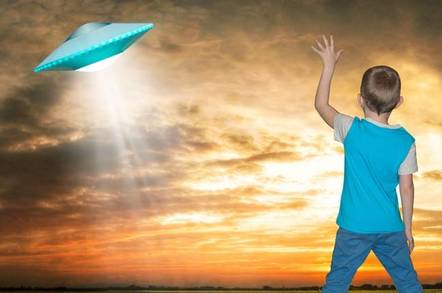 When we reported on the launch of the SETI (Search for Extra Terrestrial Intelligence) project almost two years ago, (see Aliens: Coming to a house near you soon), 250,000 users had signed up for the project, contributing over 500 years of CPU time.,
Today, those totals have risen to 2.9 million users and 600,650 years. Over the last 24 hours, users around the World have contributed 1200 years of machine time.
Never slow to rise to a challenge [Two years certainly isn't slow by your standards - Ed], regulars on the Reg forum have now set up their very own SETI group, currently boasting 36 members. Only in existence for a week, the group has already risen to number 23 in the Top 200 Government Organisations league table.
Why Government Organisations? Simply because it seemed more fun to be up against the likes of NASA, MI6, the NSA and NATO (all of which we're currently beating) than Biggleswade Junior School, Acme Plumbing of Alice Springs and Intel, that's why.
Named (what else?) Vulture Central, our gallant SETIers have (at the time of writing) completed 27,479 work units in 41.65 years of CPU time.
Vulture Central team members range from Gary Power, who's calculated a whopping 11,000 work units on his collection of 15 Pentium II 350 machines, to persistent underachiever JEFFK who's finished... er... no work units to date.
Over in Atlanta, Georgia, Amish Bill has been running SETI since August 1999 on a variety of machines including an old power Mac with a G3 upgrade and a Dell PII 450 running full time 24-7-365, along with a dual Pentium 200. Says Bill: "As much as I would love to say that 'I Believe' and 'The Truth Is Out There', I have to admit that the biggest reason I installed SETI@Home was for the cool screensaver. The part about finding aliens is just a nice bonus." He's clocked up 1335 work units so far.
A bit further north, in Detroit, we find Shawn Mahaney, who describes himself as a systems flunky. At work Shawn uses a PIII-800, a Celeron 450, along with more exotic iron in the shape of an HP RISC box. An SGI Octane single MIPS R12000 300MHz and a Sun Ultra 60 dual UltraSparc II 360MHz. He's completed around 2500 work units.
A bit lower down the scale, our very own Doctor Spinola has had a 1GHz Pentium III running SETI since, ooh, last Friday. So far he's completed 13 work units at an average of just under seven hours apiece, while Huw Pritchard, a student in Swansea (Wales), has been running an Athlon 900 Linux machine since last August with 146 units completed to date.
Space precludes us mentioning all our gallant members, but why not pop into the forum and get to know them a little better? We like to think of it as Care in the Community.
So whether you've been running SETI for two years or two days, the Reg needs you. Get on over to Vulture Central and sign up. And if you're not crunching SETI data yet, the kudos brought to the project following its recognition by The Register must surely convince you it's a cool thing to do.
Certainly cooler than flying toasters, anyway. ®
Related Story
Aliens: Coming to a house near you soon
Sponsored: Minds Mastering Machines - Call for papers now open