Iridium threatened rain of terror
One in 250 chance of hitting someone on Earth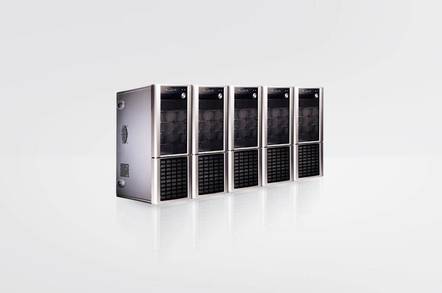 There was a one in 250 chance that debris from a proposed burn-up of the Iridium global satellite network could have hit someone on Earth, according to Nasa scientists.
The figures come from a previously secret study by the National Aeronautics and Space Administration that investigated a now-shelved fast-track schedule for bringing satellites from the bankrupt system back to Earth. In the absence of a buyer, Motorola, which was behind the $5.5 billion system, would have nudged the 560kg satellites into decaying orbits this month - but this triggered safety fears and Nasa was asked to study the proposal.
According to Reuters, Nasa calculated: "With the information currently available, the probability of someone being struck by surviving Iridium debris is assessed to be 1 in 18,405 per re-entry and 1 in 249 for all 74 spacecraft combined."
The analysis, obtained under the Freedom of Information Act, in sharp contrast to previous estimates that there's a less than one in 10,000 chance that remains of a falling Iridium Satellite would hit someone. This figure comes from estimates that assume the system remains operational, rather than being pushed out of orbit by a bankrupt firm - a plan that now appears so dangerous you wonder how Iridium were allowed to launch satellites with such a shaky business plan in the first place.
Last week, the US Department of Defense signed a deal to rescue Iridium and use the network of 66 cross-linked, low Earth orbiting satellites plus its spares for secure voice communication. It will be used by organisations such as the Navy and Drug Enforcement Agency
In exchange for the $72 million, Iridium Satellite - which is buying the carcass of Iridium from a bankruptcy court - will provide unlimited use for up to 20,000 sat-phone wielding government workers for two years.
However, before we salute the Pentagon from saving us from Armageddon-style doom scenarios its worth bearing in mind that since the Soviets launched Sputnik I in 1957, there are no reports of any injury from falling debris, though there have been 4100 natural re-entries.
Bearing this in mind its possible to see the deal as a means of providing the US military and spooks with an advanced communications facility, rather than preventing public panicking about a rain of nuclear-powered communications satellites.
Iridium hit troubles when executives realised $3000 per-handset price tag and $7 per minute call charges were too expensive to make it a mass-market product. The Motorola-backed outfit filed for bankruptcy earlier this year. ®
Related stories
Sailors to use Iridium
< a href="https://www.theregister.co.uk/2000/12/01/iridium_satellite_crashes_over_arctic/">Iridium satellite crashes over Arctic
Iridium back from the dead
Sponsored: Minds Mastering Machines - Call for papers now open