Europeans text sex obsessed
Less messy than the real thing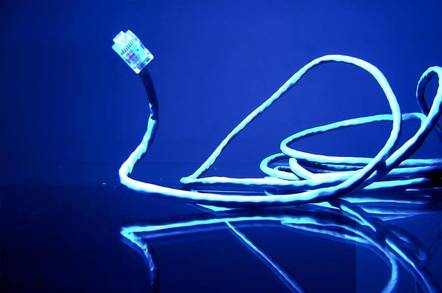 Another day, another survey - this time it's the turn of SMS, with research claiming that a quarter of European mobile phone users have indulged in "text sex".
And who are the continent's sauciest SMSers? Surprisingly, it's the Germans - 80 per cent of German males have used their mobile messaging system to chat someone up.
The research then goes on to "reveal" the fact that British men are pigs. It found that 90 per cent of them admitted they had lied about where they were when text messaging (the other ten per cent probably lied about not lying). But British women aren't daft - 15 per cent of them have dumped a partner via SMS.
The survey, by British mobile phone software company M@gic4, claimed that a fifth of Finnish women had sent naughty text messages from the sauna (wouldn't the steam mess up the screen?), while the same number of Irish women had been proposed to via SMS, and 60 per cent of Irish males said they used the system to swap stories of their sexploits.
Meanwhile, a worrying six per cent of randy Europeans said they had conducted text message conversations with people whilst "engaged in sexual acts" with someone else.
The survey didn't reveal if this was because it is difficult to have a proper conversation on the phone with one's mouth full. ®
Related Stories
Online hack exceeds call of duty in sex report
Bullies taunt victims with SMS
The new hip SMS patois
SMS messages cause Reebok riots
Sponsored: Minds Mastering Machines - Call for papers now open