Iridium back from the dead
Satellite comms network saved!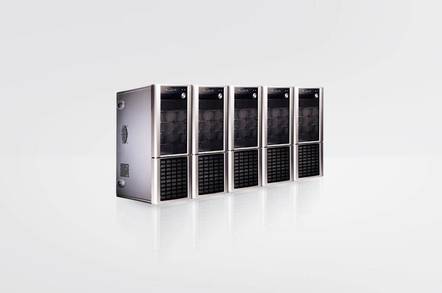 Iridium, the ill-fated cellphone-by-satellite service that collapsed earlier this year, is to be saved from destruction.
When the company went bust, its chief investor, Motorola, which also had the contract to maintain the service's network of 66 satellites, said with no buyers in sight, all that space-bound hardware would be knocked out of orbit to burn up in the Earth's atmosphere.
Not any more. An operation calling itself Iridium Satellite (IS) yesterday announced the US Bankruptcy Court for the Southern District of New York had agreed to allow it purchase Iridium's assets, including all those satellites.
IS is headed by one Dan Colussy, a veteran of the airline business. In the past he has run Canadian Pacific Airlines and Pan American World Airways (remember them?)
His new company will initially provide the US government with cellphone services - presumably picking up all those nice contracts had with the US government - with an eye on resuming commercial services at some point in the future.
If that sounds disastrously like Iridium's strategy, which, of course, never worked, IS at least has the sense to target vertical markets with a specific need for this kind of communications technology. IS doesn't appear to be heading down the same mass-communications road that its predecessor foresaw only to be quickly out-evolved by the digital cellular phone.
Motorola has agreed to hand over the satellites to IS, and will relinquish the maintenance contract too, to Boeing. The surprising thing is that Motorola still has satellites to hand over. At the end of August it was moaning about how many millions of dollars it was costing to keep the hardware in orbit - hence the desire to let them crash and burn.
Presumably the US government has been picking up the tab in the meantime, keen to maintain the service's operation. That would also explain why IS is sure it can win back Iridium's original government contracts.
Motorola isn't doing too badly out of the deal, since it has also agreed to produce handsets for the IS service on what the company calls "commercially acceptable terms". ®
Related Stories
Iridium will crash and burn - Motorola
US investment house moots $50m Iridium takeover
Flying sourcers to open Iridium...
ePublisher claims it can save Iridium, turn a profit
Craig McCaw cuts losses and abandons Iridium
Sponsored: Minds Mastering Machines - Call for papers now open