Beam me up, Intel
Broadband over light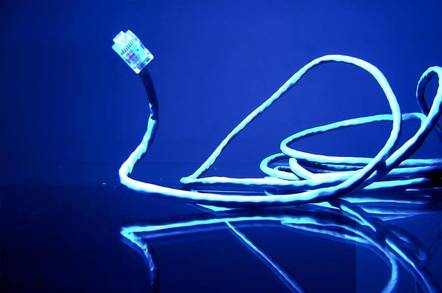 Fibre optic networks - they ain't cheap, especially for that last mile into people's homes. Microwave? Too bloody slow for broadband applications. So what about using lightwaves to squirt data?
This is the big idea of Quantum Beam, a Cambridge, UK start-up which has devised a way of carrying information over infra-red light at up to 1000Mbps. This sent through the air to base stations in the street and then onto a receiver in the home. Receivers should be no more than 500 metres from the base station and there should be a clear line of sight between the two. Oh, it works in the rain, too.
Hang on, but hasn't Terabeam already thought of this big idea? Yes, but Quantum Beam reckons it can execute the big idea more effectively - for example, its technology can reach vehicles on the move.
Intel thinks Quantum Beam is a goer, and has already got in on the investment act, shoving upwards of $5 million the company's way, for a stake said to be less than $15 million.
Currently, the company has just ten employees, although this is ramping up to 30 by the end of the year. ®
Sponsored: Learn how to transform your data into a strategic asset for your business by using the cloud to accelerate innovation with NetApp