MS and Sagem unveil Stinger wireless Web PDA
Ready for GPRS in Europe. Which is more than you can say for GPRS...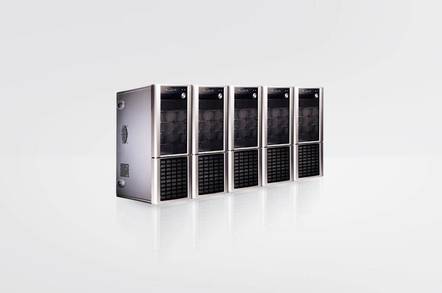 Microsoft and French manufacturer Sagem have finally unveiled their joint venture PDA/mobile phone combo. The device is the first product of an alliance that was announced somewhat tersely in May 1999, since when Microsoft's 'Stinger' CE-based mobile phone platform has been largely demoware, but Sagem intends to start shipping the WA3050 from early next year.
This puts it somewhat behind Ericsson's R380, a Symbian-based all-in-one that's already shipping in Europe. The WA3050 is also a bit heftier than the R380, although this isn't necessarily a minus - the 380 has tiny keys, and in The Register's view a slightly fragile look about it. The WA3050 uses a touchscreen for input, so you can't type on that either.
On the plus side the WA3050 supports GPRS, the high speed wireless system that is currently staggering out in Europe. This will likely give it a ready market in European business, particularly as Microsoft has had some success in selling the notion of tying together corporate networks with CE wireless clients here.
The approach of combining a CE PDA and wireless phone in one box however will take its toll. Symbian criticises this for reasons of aesthetics and reliability, but the real killer is probably component cost. The device has 16 megs of RAM, and Pocket versions of Word, Excel, Outlook and IE, plus of course Media Player. It's not clear how much - if at all - these have been tailored for the small platform, but it does look as if it's a relatively high spec general-purpose device that'll require heavy sign-up subsidies if it's to achieve a plausible street price.
We haven't checked CE licence fees in the mobile phone business for a while, incidentally, and we'd love to hear from anybody who knows the going rate. Symbian is sticking at $10 for a communicator, $5 for a smart phone, but proposes cuts when the volumes go up.
The WA3050 won't be available in the US, but Microsoft intends to demo equivalents from other manufacturers at Comdex next week. If the mobile phone service in Vegas hasn't got massively better since last year, this is not going to be pretty... ®
Sponsored: Minds Mastering Machines - Call for papers now open