BT's profits plummet
Holds car boot sale to raise extra cash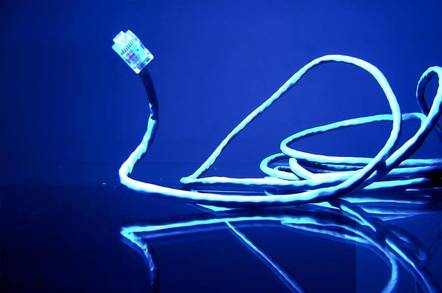 Update BT's plans to sell off part of the family silver in a bid to reduce its debt burden and turn around the ailing giant does not appear to have found favour with the market.
By mid-afternoon, BT's shares were down 50p (6.35 per cent) to 738p, having started the day at 784p.
Furthermore, some press reports have talked of a crisis in the monster telco. If there is a crisis, BT's CEO, Sir Peter Bonfield, was hiding it well.
He said: "Today I am announcing the acceleration of BT's transformation through a radical and unprecedented restructuring of the business" adding that it BT was being "more radical than any other telecoms operator in the world". Read BT's strategic announcements in full here.
He also banged on about being a "decentralist" - which should help fuel further speculation that BT could eventually be broken up.
In a bid to reduce its £30 billion debt, the monster telco confirmed that the sale of 25 per cent Yell - its phone directories outfit - would go-ahead by the end of the fiscal year.
It also plans to flog up to 25 per cent of BT Wireless, it's mobile phone operation.
It also intends to sell 25 per cent of its network, creating a new company in the process called NetCo.
BT Ignite - its business-focused e-business operation - is also going to be made ready for sale.
It also plans to tighten its "market focus" and dispose of non-core assets outside Western Europe and Japan.
Job losses continue apace with 5,000 people losing theirs by the end of this year.
Together, it's hoped these proposals will reduce BT's debt burden by £10 billion by December 2001.
Today's major restructuring announcement comes as it revealed that half-year profits fell from £1.66 billion last year to £1.03 billion. Turnover increased to £14.39 billion from £10.32 billion. ®
Related Stories
Sponsored: Minds Mastering Machines - Call for papers now open