Orange boss Snook moots transaction 'tax' and bossy fridges
The access could be free, but there'll be lots of goodies for you to pay for...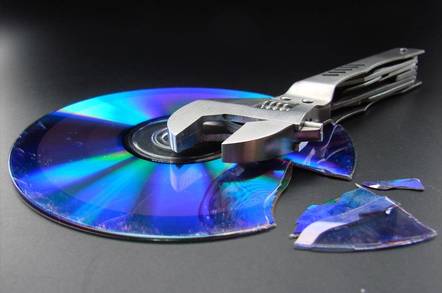 Orange boss Hans Snook remains his old ebullient, semi-crazed self despite the recent sideays shuffles masterminded by his new taskmasters at France Telecom. Speaking at Symbian's Developer Expo in London yesterday, the great visionary outlined a nightmare future, OrangeWorld (like Westworld but wired) of wired fridges, self-diagnosing cars and real-time biometric monitoring of joggers.*
In OrangeWorld your every move from dawn to dusk (and beyond) will be planned for by Ananova (oh yes...) but Snook fervently hopes that the green-haired bimbo with a sound made up in equal parts of New Yoik, bourbon and a Commodore 64 speech synthesis program will have Wildfire's speech technology successfully transplanted to it. In which case one does wonder about the amount Orange paid for an animation of a green haired bimbo, but there you go.
More significantly this CEO on speed (which more than ever, Snook has to be) is banging out quick-fire billable mobile applications, and pitching a revenue model that is "transaction-based." The mobile service provider model for the future, he says, will have to be able to accommodate micro transactions, so the service provider picks up a little money every time your Avatar wakes the kids, gets you the top ten, switches the heating on, and so forth. A rake off from the credit card companies whenever you buy something using your mobile.
Readers with long memories will recall that in just about pre-Internet days Microsoft was being denounced for - and hotly if unconvincingly denying - plans to act as the gatekeeper for online transactions. Snook's plans clearly reinvent this demon, and should raise a lot of dust just as soon as the right people notice.
There is however an underlying logic to them. Current mobile network charging, he says, has to change because in charging for the delivery pipe the service providers will simply reinforce their image as "merely a delivery mechanism."
The logic of this is that Snook envisages a world where the service itself is free, or nearly free, while the service providers make their money by charging a little for all of the mobile applications used and transactions made. It's also a handy notion for service providers who don't have an entirely global presence - i.e., all of them - because they don't actually need to provide the service in order to provide the more lucrative life-organisational capabilities. You can see similarities between this vision and the current differentiation between ISPs and portals.
Snook's list of planned applications is scary - deliberately, we assume. "A sensor monitors your heartbeat and tells you when you have reached your ultimate heart rate [sic] for the day." You can control "a wide range of household appliances... your fridge will order food when supplies are low." In the video, the fridge even phones up the jogger and tells him to go collect the groceries.
Again in the video, your car repeatedly tells you it's got a minor fault and books itself into the garage. It never seems to tell you what the fault is, and what it'll cost, so clearly it's in league with the garage, which (serious point) will no doubt have paid Orange a goodly retainer for presence on the A list of providers. Which is of course another row waiting to happen.
Will it happen? Portal approaches like Orangeworld will stand or fall on the basis of the quality, utility and versatility of the applications they offer - they'll be entirely dependent on giving people something that's worth paying for. And bearing in mind how good at this software is today, we fear the answer is no. They'll be up against free services provided on what we can now safely call the traditional Internet, and they'll have to justify cost by demonstrating clear value for their own 'premium' services.
But Orange could convince us. If, for example, instead of doing the video on an attractively traffic-free Pacific Coast highway, scheduling meetings in light, airy, high tech offices, how about successfully negotiating the Tottenham-M11 route at 7pm on a Friday? Now that would be convincing... ®
*Bonkers Orangeworld services roadmap
Music and video - 2000 (Snook says current absence is all Microsoft's fault)
Smart cars, biometrics, bossy wired fridges - 2001
'Trevor McDonald' option for Ananova - 2002 (we made that up)
Related Stories
Orange reshuffle brings in France Telecom exec
range phones will clean your teeth too
Sponsored: Minds Mastering Machines - Call for papers now open