BT to lose £1.2 billion for Italian 3G auction pull-out
Lazy giant not too pleased, to go to appeal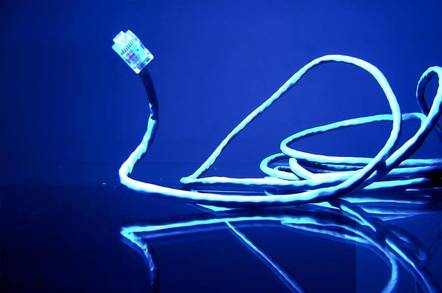 The Italian government has decided it will keep the £1.2 billion deposit put forward by BT-backed consortium Blu for its 3G mobile phone auction. It claims that irregularities and inconsistencies in the auction process mean that the consortium hasn't fulfilled its obligations and so is not entitled to the return of the deposit.
BT is, unsurprisingly, not too impressed and is going to court both through Blu (today) and on its own (tomorrow) to dispute the decision.
It was Blu's unexpected decision to pull out of the auction after only two days that left just five bidders for five licences. The knock-on effect of this was to reduce expected revenues from £20.8 billion to a paltry £7.1 billion. The Italian government was livid and announced an immediate enquiry.
The enquiry decided that the auction results would still stand and the process was fair and equitable. At the same time, however, it decided that there were questions about Blu's behaviour and so the government should keep its deposit. It is this dichotomy that leads BT to believe it has a strong case.
Exactly what these irregularities and inconsistencies are remains vague - violation of auction procedures in the way it dropped out and violation of confidentiality rules because it made it clear to others that it would pull out - and are likely to remain so until the legal challenges/arguments are run through.
The government was widely criticised for how it handled the auction. There were eight original bidders but two were known to be merely speculative. That left six bidders for five licences - a recipe for disaster. When Blu pulled out, the government saw its dreams for a windfall vanish.
Why did Blu pull out? Well, according to BT is was because of the consortium's setup and rules. Blu comprises eight members: BT, Banco Nazionale De Lavoro, Distacom, Edizione Holdings, Italgas, Mediaset, Palatinus and Sitech. After two days, BT, Banco Nazionale, Mediaset and Distacom wanted to keep in the process but the others wanted out. Those for represented a 52 per cent majority but an 80 per cent vote in favour is needed for positive action, according to Blu rules. BT says it even offered to take a bigger stake in the consortium but couldn't afford the asking price.
And so it looks as though it was a case of too many cooks spoil the broth. And the Italian government, smarting from an embarrassing loss of nearly £14 billion, thought it would try to recoup some of it from the company that caused the situation by pulling out. After all, when £1.2 billion is up for grabs, why not give it a whirl?
Incidentally, the final winners were: Telecom Italia, Omnitel, Wind and the IPSE 2000 and Andala consortiums. And just for completion, they are owned/backed by:
Telecom Italia: Telecom Italia
Omnitel: Vodafone
Wind: Enel, France Telecom
IPSE 2000: Telefonica, Sonera, ACEA
Andala: Hutchison Whampoa, Tiscali, CIR Group, Sanpaole IMI
There you have it. ®
Related Story
BT may be investigated for 3G auction-rigging
Sponsored: Minds Mastering Machines - Call for papers now open