Abuse: you love it you slags
Actually, there's some really well-thought out points here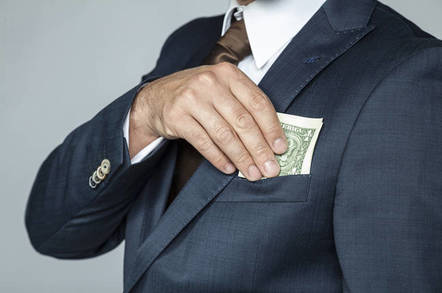 FOTW [Water. Duck's. Back. But if a duck is able to have a kinda entertained smirk, then that duck, The Register duck, is the one that is having the water on its back. Failure to understand a joke is often funnier than the original joke. NB Some letters may be very funny satires of flames]
---

Just read one of your writings - my first and last. You sound very trashy. Perhaps you make it so, on purpose for a certain segment, or perhaps that's the way you talk. Regardless of the content of course, you write trashy. Good riddance!

---
Regarding yet another of the Register's silly articles.
"Well, the computer runs Debian and on start-up, the thief will have been faced with Welcome to Debian GNU/Linux Login:" and a password prompt - a far cry from consumer and thief-friendly Windows, and proof, if you needed it, that Linux is more secure than Windows. "
You're suggesting that the fact that a small-time thief doesn't know how to reformat a hard disk and install a new OS is somehow proof that Linux is more secure than Windows.
You really are stupid.... and a worthy member of the Register story-teller team.
Regards
Robert Ian Axford
---

Register launches SpinolaVista™ unmetered 25/7 Internet access


If you do not pay me the sum of $1,000,000 within twenty four hours, I shall be forced to carry out my threat and register the domains spinolavista.com, spinolavista.net, spinolavista.org and spinolavista.co.uk, thus sabotaging your entire business plan.
David Murray
---

Where do you get off just assuming that we Americans know nothing about soccer, or as you pansies call it "football". I read that last bit in your article on Beckham, apologising to the Women and Americans and was utterly shocked.


My family had the good sense to leave England three hundred years ago, but I still know a good deal about the sport. In fact as I read this I am wearing my Manchester United shirt, not that I am a Man U. fan or anything, I'm an Arsenal fan but this shirt is too cool not to wear (it was a gift from one of my tea sipping queen loving friends).
Be careful, if you carry on with your arrogance for too long you will end up as bad as those goddamn frogs, and then where will the world be?
Phill
---

Big tough Dramurai sues Rambus


Your story posted 30/08/2000 misses the point entirely. In fact, you seem to make a joke out of a very serious matter. The under-pinning issue is that Rambus stole open source technology and wants to brow-beat DRAM makers into paying royalties is cannot legally claim. If Rambus is successful, the future of open source technology could be compromised. In fact, the free flow is this kind of development would be severely hampered if developers had to worry about who was going try and claim patents on their open source work and who they could trust.
Rambus is a very unethical player and deserves to be hammered hard for the sake of open source technology. I am shocked that someone like you, who is obviously uninformed, is allowed to make a big joke about all this in a respected public forum.
[Name and address supplied but pulled by us due to unsubstantiated claims and allegations]
---

Mr Legoland Windsor sued over his Web site


From
Artist M.C.Cotter
M.C.Cotter Productions
Why did you start your article with a sentence beginning with:
"The piss artist formerly known as Craig Cottrell "
I hope this is a typo because I'm offended by the term
What is a, "PISS ARTIST"?
G.R.McCotter
[As we explained to GR (or is that MC?) Cotter, a "piss artist" is slang for a drunk. The sentence was an analogy to Prince the musician]
---

[This letter is so far off the mark, we regard it as abusive]


This webpage 'https://www.theregister.co.uk/2000/05/09/official_register_2000_pr_tariff/' on your website, is it a joke ?
If not, what is the purpose of your Web site ?
Best Regards,
Peter Stockman
Sponsored: Minds Mastering Machines - Call for papers now open