ISPA slams Oftel
Sends winged watchdog to the kennels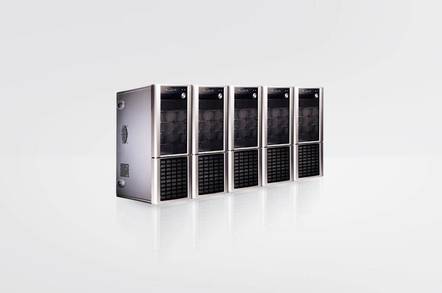 The Internet Service Providers' Association (ISPA) has accused Oftel of ignorance when it comes to understanding the needs of Britain's Internet industry.
In a sharply worded statement issued today, ISPA "expressed its concern about recent comments by the telecoms regulator, Oftel, regarding BT's wholesale unmetered Internet plans".
The trade group also launched a personal attack on Oftel's DG, David Edmonds, saying that his confidence in FRIACO Hybrid (Flat Rate Internet Access Call Origination) - a wholesale unmetered Net access product from BT - was "misplaced".
Earlier this week the winged watchdog issued a statement in which it said the wholesale unmetered access package from BT currently on the table (FRIACO Hybrid) "provides a sound basis to promote competition in unmetered Internet access".
Oftel's understanding appeared to be vindicated when MCI Worldcom said it had signed up to the product.
Laurence Blackall, ISPA Council member and President of ISP Concentric Network, disagrees.
He said: "Mr Edmonds is sadly misinformed if he believes that BT's delayed and diluted unmetered plans will allow full and fair competition in the UK Internet access market.
"We would also urge Mr Edmonds to look very carefully at the reality of BT's activities in the field before making any further judgements about their willingness to allow true competition in this area."
And he told The Register: "Oftel has a long history of failing ISPs.
"I want David Edmonds to demonstrate that he understands the needs of Britain's Internet industry."
A spokeswoman for the regulator said that Oftel didn't share ISPA's view. "I expect to see more companies take up FRIACO Hybrid," she said.
How ISPA sees the FRIACO fiasco
Can't quite get your head around this FRIACO stuff? Unsure what the heck is going on anymore? Well, check the following out, it's lifted straight from today's statement from ISPA and kinda of says it all. Except who'll win the 3:15pm at Kempton Park next week...
"ISPA and its members have been working to achieve a true cost-based flat-rate wholesale product from BT which will in turn enable Internet Service Providers (ISPs) to offer sustainable flat-rate Internet access products for their customers.
"BT Surftime, the telecoms company's proprietary Internet tariff launched on June 1st, does not offer truly unmetered access to consumers. Surftime pays for the cost of the Internet call to the local telephone exchange, but does not cover the second leg of the call to the regional exchange - where ISPs' connections to the Internet begin. BT charges ISPs on a minute-by-minute basis for this second leg, effectively forcing service providers to absorb uncapped financial risk while encouraging consumers to spend unlimited time online.
"Additionally, rival telecommunications operators are not yet present in many of BT's local exchanges - and will not be so in meaningful numbers until the local loop is unbundled. BT's telecoms competitors are therefore reliant upon BT to carry the traffic for them to the regional exchanges - incurring a metered charge at a rate set by BT.
"On May 26th, OFTEL issued a determination compelling BT to introduce a wholesale unmetered tariff known as Flat-Rate Internet Access Call Origination or FRIACO. This ruling obliged BT to offer its competitors a flat-rate product to the local exchange.
"However, OFTEL did not direct BT to provide unmetered access from the local exchange to the regional exchange - thereby knowingly mandating BT to make available a product which has proven to be unworkable.
"As a part of its May 26th determination, OFTEL announced it had appointed a technical committee to investigate whether BT should be forced to offer wholesale unmetered rates between the local and regional exchanges. That technical committee was due to report back with its findings in June, but has not done so. OFTEL is unable to provide any date for delivery of this final - and crucial - judgement despite taking three times as long as they have said.
"The alternative solution which has emerged in the interim - the so-called FRIACO Hybrid - contains per minute charges as well. FRIACO Hybrid was only published on 3rd August and BT states in its release that the product will not be available until 30th August - more than three months after OFTEL required BT to provide it." ®
Related Stories
Oftel duped by AltaVista
MCI Worldcom to roll out unmetered Net access
OFTEL slaps AltaVista
Sponsored: Minds Mastering Machines - Call for papers now open