Click here for naked fun
William Hague uncovered. Literally. But not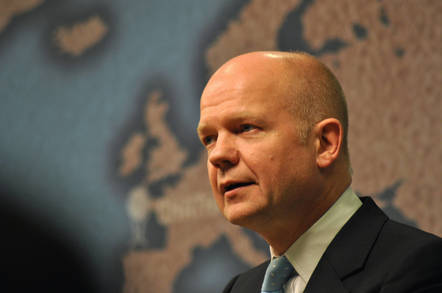 A reader sent us an email suggesting we check out www.williamhague.com. Since baldy boy William is head of the Conservative Party and Her Majesty's Opposition, our gut feeling was that it would be a satirical site. None of it.
"Hi, I am William Hague and a very keen naturist, I am not William Hague the conservative politician from England!," is the greeting message on this one-page gem. And just in case you don't get the message, there's an accompanying photo picturing William in his birthday suit.
But when the laughs died down, we smelt a rat. If Will is such a keen naturist, why is the picture of him coming out of a shower? We had a dig about and found that the site is hosted by Web developer Prosite.
So we visited Prosite's Web site to get a contact number. Going to the staff page we found the top man - Guy Houghton - and the phone number. But hang on. Look at Gordon Hay's photo. Take off the glasses, darken the beard. Your naked man on the Hague site is obviously a spectacle wearer.
Guy is a little suspicious of us. He checks out the Reg site. Satisfied, he admits that the site is a gag. Is the man in the pic Gordon Hay? "How do you know that?" Likeness we tell him. "Well, I'll tell you something - run your cursor over his glasses and click. We put that there just to let his mates know."
Grand. ®
[PS It's only fair to point out that Prosite were concerned about the possible cybersquatting angle of this story. Quite frankly, when so-called cybersquatting is this entertaining, we say let it be]
Update: Such was the response to the story that Prosite decided to add three pages to the site yesterday (and colour it in tasteful yellow). You can now check out "William's" naturist friends (quite funny). And it also added a Contact section where it's implied it might be willing to sell the domain. Cheeky buggers.
=
Sponsored: Minds Mastering Machines - Call for papers now open