Roll-up! Roll-up! Second money-burning Internet auction on way
This time we're talking broadband fixed wireless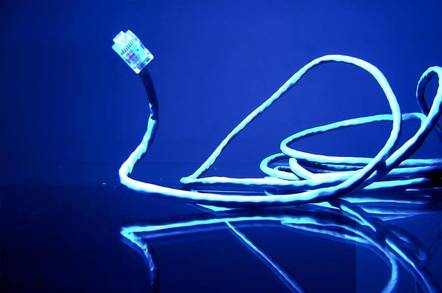 Final details for the auction of digital radio spectrum that will allow high-speed Internet access have now emerged. There are 51 companies going for 42 licences throughout the UK and initial expectations are that the government could rake in £1 billion. The planned launch date for the auctions has been set back from this summer to a provisional 16 October.
These "broadband fixed wireless access services licences" will allow for fast, permanently connected Internet access without the need for cable or telephone connections and high-capacity data transfer and video conferencing (between 2 and 5 Mbps, apparently) and have been split in two groups. The 28GHz licences are those being discussed currently and a second set of 40GHz licences will be sold next year. There will be three licences each for 14 different areas in England, Scotland, Wales and Northern Ireland. Companies will be only be allowed one license per region but can be in unlimited regions. Each license stands for 15 years.
The initial plans for selling off radio spectra were announced in July last year and the 28/40 GHz split was announced this January. E-minister Patricia Hewitt said in April that the 28GHz licences would be sold off using the same auction method as that for 3G mobile phones. It didn't come as much of a surprise as the system was devised to extract as much money as possible from competing companies.
In the end, the 3G auctioning made £22.5 billion for the Treasury (its knock-on effect on the winners is still being felt - BT's profit fall this week has been part blamed on the extortionate cost of its licence). These upcoming auctions, while hotly contested, are unlikely to provide such a huge windfall as the technology on offer only allows for communication between two fixed points - unlike the roaming mobile technology.
Detailed information on the auctioning was released in June, with a deadline of 17 July for comments. But according to a spokesman at the Radiocommunications Agency (the organisation in charge of selling the licences), such was the feedback by companies that it was forced to push the launch date back from August to October.
The details for the 40GHz licences are still to be decided - as yet the number of licences, rules of the game and selling method are a matter for discussion, although another auction looks likely. They should be available in the second quarter of next year. ®
Related Link
The Radiocommunications Agency (this is a cracking site - everything you want to know, tied together and easy to find)
Sponsored: Minds Mastering Machines - Call for papers now open