Come with me inside… Cable & Wireless
We check out one of those new-fangled data centres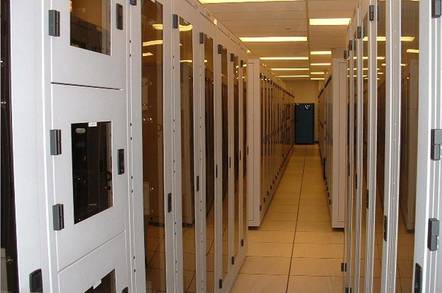 This May, Cable & Wireless reappeared from a self-imposed exile and told the world how it saw the future of the Internet.
After running through its latest results, CEO Graham Wallace told the assembled masses C&W's new business focus. Out went the consumer business and everything else that didn't fit in. Now, C&W would be an infrastructure, ASP-centred monster. It would set up the biggest goddamn data centres you had ever seen, then it would sell its nanny services to any company that wanted them.
These centres will, naturally, be concentrated in the US, Japan and the UK. And just wait, Graham told us, we'll have one in Reading very soon. Well, Cable & Wireless kept its word. It may have been Swindon and not Reading (but that's close enough) but come 8 July and The Reg receives and invitation to the grand official opening, complete with special guests Patricia Hewitt, small busines and ecommerce minister (smart, as in dressed), the local MP (all smiles) and the Mayor (fat, gold chain) and Mayoress (didn't see her). So we went along to have a snoop about.
The first thought on driving up to the silver and blue building is that it's not as big as expected. Considering this will be one of the main epicentres of the company's global data plan, it's looks, well, a little puny. (For those carpet-fitters among you, it's 12,000 square metres).
The reception is cosy and all the corridors throughout the building are fairly tight. It's nicely upholstered, looks (but doesn't smell) brand new and there are loads and loads of doors.
But that's enough of the womanly side of things. Is this thing any good? Well, we got the usual rundown on how it was all state of the art, the security was second to none and the monitoring top notch and service-guaranteed (although we told a few important C&W employees that with a crack team of terrorists, their turnstiles and thick glass weren't worth shit. The old boys in their fancy security uniforms would be the first to go).
Maintaining an air of scepticism, we wandered round with Patricia, Graham, some important Xerox folk (the centre's first big customer). Everything looked too small - the control centre, the testing lab, the storage halls - for a world-beating data storage/supply centre. But no matter, it all looked as carefully controlled as the server bays. Of course, it hasn't been publicly tested yet - it just opened. We decided on indecision. But then earwigging on the Xerox crew, we heard nothing but praise. They may have been plants, they may have been the-sun-always-shines types, but it does look as though this might be a quality establishment. It should be, it cost a small fortune.
Of course, we've forgotten to mention the big launch. Well, there was a compere - the centre's top man - and then Graham giving a pep talk, then Patricia being vague but encouraging.
Graham: "Large recent developments in Net technology. Helping companies pursue goals. C&W's network one of most advanced in world. Partnering is crucial. More centres in Japan soon. Offer portfolio of services, big business and small. Will lead Europe in embracing e-commerce."
Patricia: "Revolutions affect those in high places but government loves digital revolution. Govt not complacent (even though it's doing so well). Don't forget about the low cost of Net access these days. Amusing and possibly true anecdote about Tony Blair. Digital TV is popular. Big plans afoot to put government on Web, but parliament is not a nimble creature."
Then, Patricia presses a big red button, some thundering classical music blares out and a small rostrum turns around to reveal a plastic globe on a metal pillar with C&W's logo over it. The Old Vic's never seen better.
Okay, this is too long now. If you want to read about our chat with Graham Wallace and the one question we managed to ask Patricia Hewitt, click the continued story here. ®
Related stories
C&W CEO answers Reg criticisms
Sponsored: Minds Mastering Machines - Call for papers now open