C&W CEO answers Reg criticisms
Oh, and we ask e-minister Patricia Hewitt a solitary question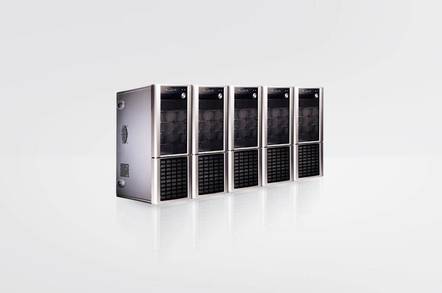 We went to the launch of Cable & Wireless' new data centre in Swindon today. While there, we managed to have a cosy chat with the company's CEO Graham Wallace and took the opportunity to raise criticisms we levelled in May over his company's new business focus.
This whole ASP malarkey is going to take years to get going
"Yes, it will take time. But we are entering a new era and companies - small companies in particular - need a strong Net approach. In four to five years, it [the ASP market] will have properly developed."
We're worried about your cash flow
"Well don't worry about that. We've £6 billion in cash, so we won't be running out. We have plenty of money to develop the network. Besides, we'll be spending about £3 billion and getting £2 billion back in income [in the meantime]." [NB. C&W has got the cash from selling off its consumer arms]
What about this big shift in focus. Bit of a risk?
"What we do know is that the biggest risk is doing nothing. You have to move very quickly in this industry. Since we are in the unique position of being a truly international company, it seemed as though what we have gone for the least risky option of all. These days, you have to specialise."
What about Deutsche Telekom's suggested takeover price of £30 billion for you?
"Well - Deutsche Telekom can say a lot of things."
You've pulled C&W's global parts into one company. We proposed this was to scare off hungry would-be acquirers. Isn't C&W now looking like a bargain buy before the ASP money kicks in?
"Whether we are a takeover target or not is not my concern. As chief executive, my job is to have a clear strategy and to make sure I set up the business to deliver that strategy."
The chat went on. We asked about the empty space in the centre. He tells us to come back next year, when it should be "pretty full". The largest hall (of four?) can apparently hold 57,000 servers, so we're looking at some large business estimates. Graham also seemed impressed with Vodafone, mentioning the mobile company's "focus model" three times in the conversation. Shame then that it made play of its new partnership to build the "world's first global mobile platform" with Nokia.
We also quizzed him about mobiles and the whole WAP thing. He's in agreement with us that the tiny green screen will always be a constrainer. "I can see text services becoming more and more popular - especially the location based stuff and emails on mobiles. But then in three to five years, we will be running stuff on the top of it that no one has thought of yet." And yes, Graham thinks that that video over mobile is a daft idea. "Well, that's more of a case of technology battling against common sense. I can't imagine we'll all be watching the news on little mobiles." Well in, lad.
And with this, the animated but pale-faced (you've been working too hard Graham) Mr Wallace shook our hand and wandered off into the centre's labyrinth of corridors.
Oh, and no forgetting the question we managed to ask e-minister Patricia Hewitt - after we'd cheekily ignored instructions and followed her and Graham outside for a photocall: "Is the government going to set the ball rolling and locate its servers in this building?".
She answered like a true politician. Something like: "Well, I'm not really sure where the government's servers are based but we do have a secure government area. We are expanding the government's network but we do have a secure government centre." We reckon that means no. ®
[Interestingly, The Reg has just been informed by a reader that C&W already hosts the government's hub. The GSI (government secure intranet) can be at Brentford]
Related stories
Come with me inside...Cable & Wireless
Cable & Wireless comes out of hiding
Nokia/C&W pitch for future of mobile market
Sponsored: Learn how to transform your data into a strategic asset for your business by using the cloud to accelerate innovation with NetApp