The NTL customer backlash starts here
Register readers weigh in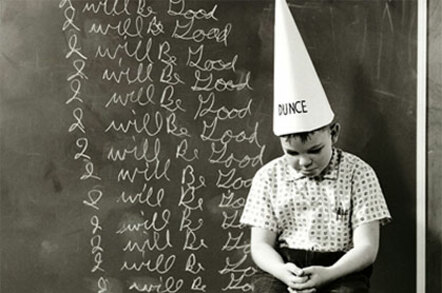 "NTL - Technology and the Internet tamed". So says the company's TV and radio ads. Sean 'Anne Robinson' Fleming was stuck at home sorting out house problems and thought he'd get it to set up cable and TV in his new abode. Oh dear. The resulting story "Hi, thanks for calling NTL - we suck", struck a chord with readers and soon we were inundated with fellow sufferers. Just some of them are sampled below:
I agree.
NTL are the biggest bunch of idiots I've ever had to work with. Their engineers regularly cut off BT lines in a street when they are installing new cable lines. When you call them you are forced to listen to crap about NTL World for three minutes before the automated voice tells you: "Please try again later, all our staff are busy at the moment."
When you do actually get through to a real person, they usually don't know what they are talking about and transfer you from department to department. Once someone at NTL phoned me to reply to an earlier query - only problem was they had severe line problems at their end and I couldn't hear them! I was later told that this affected the entire support room for a whole day. Now, if a telco can't even sort out their own phone lines, how can they sort out mine?
[+ four more paras]
Matt Brown
---

I've just read your NTL peace and as they say "you were lucky". You want to be one of the Cable and Wireless customers, that NTL now own. Under no circumstances are we getting anything like a good deal.


NTL say sure, we own you now, BUT we CAN'T let you have the benefits ALL our other NTL customers as your C&W branded.
[+ 10 more paras]
Register reader asking to be called "A Team Amiga Member"
---

You got lucky mate, how about this for a tale of woe:


I got my phone and cable "installed" by NTL in November '98. I say installed as, rather than give me my own phone lines they took the spare lines of two other flats. Not a problem at the time...
They gave me my phone number. I kept getting wrong numbers for the same person, but figured NTL had given me the number of someone who had recently been disconnected (which I wasn't impressed with). Eventually these calls died away. Some time later, whilst calling NTL on an unrelated matter, the helpdesk noticed that the number I was calling from wasn't the number I was supposed to have. They'd given me the wrong number, there was a one-digit difference. I asked to keep the number I was on as I didn't want to have to advise everyone of a new number. A couple of weeks later I got a call from an NTL technician telling me he'd changed my number over for me, he seemed to think I'd be pleased!
Then, late last year, I paid my bill over the phone with my switch card...
[+ many more paras]
Sean Fowler
---

Your case is by no means unique.


I have always steered clear of NTL. I know perhaps five people who have been subject to NTL problems. Exactly the same number of people who I know who have tried to connect to them ;-) They have a 100% record is some areas!
Example: They arrange to come and do a new installation on a Friday afternoon. Arrangements are made for someone to take the afternoon off work to let them in. They ring up on Friday morning saying
NTL: "We have a gap in out schedule, can we come this morning?"
"No there will be know one there."
NTL: "Oh, could we perhaps try anyway? We'll come back this
afternoon if no one is in."
"OK"
Later that very afternoon
NTL: "Hello this is NTL we tried to install your phone this morning and
There was know one in."
"They wouldn't have been, the appointment wasn't until this afternoon"
NTL: "Well we've rearranged it for next week"
"You incompetent bastards, come and fix my phone!"
blah blah etc
The basic upshot was a threat to go to BT. This normally sorts them out.
Their faults are many and varied but summed up by the fact that they don't give a shit about any of their customers, new or existing. It's just down to plain old incompetence, the only thing at which they can do well.
Cheers,
Mark Melton
---

Just thought you might be interested in another shining example of NTL's efficiency.


The little darlings sent me their NTL World CD about a month ago. Now, I know I'm in the minority here: I use a Mac at home, a G3 Powerbook running OS9.
But that, according to the sys requirements on the packaging, should be fine. So CD goes in slot, installer runs, restart kicks in - and system crashes… [more]
I'm promised a call back. It's been a month. No joy... [even more]
As for NTL? Screw 'em.
Best wishes,
Jeremy Scott-Joynt
---

In the past year I've had screwed up dealings with BT, Localtel/World Online, NTL, Telewest, Sky AND On Digital. It's been a comical catalogue of misinformation, confusion, form letters, broken promises, missed deadlines and blithly ignored letters and emails, punctuated with false burts of optimism as I occasionally manage to hack my way through the bowels of auto-attendants and speak to Real Live People(TM) - who invariably turn out to be clueless powerless third-party call-centre drones who are unable to answer questions or resolve any problems.


Colin MacDonald
---

I explained that I was fed up waiting for a CD, that I didn't really want to use one anyway, and that I just wanted to set up an account so I could configure my machine manually. Hardly brain surgery, but he said he didn't understand what I wanted to do...


NTL's company policy is to NOT assist customers or provide resolutions to problems or complaints. But that's not all. Here's how some more of the conversation went... [conversation featuring Kafkaesque bureaucracy]
Martin R Davies
---

According to NTL they have 300,000 people waiting, but they are sending out the disks at 10,000 per day. Oh yes and you should receive your disk in on 28 days. Could somebody explain to me how you fit 30 days into 28?


Oh yeah and the difference between NTL via cable and NTL via phone is that it sends different codes down the line, so that NTL knows whether to charge you or not. Exactly how long do you think it will be before some cracker breaks the code and posts them to the net?
Kate Wolf
---

You might think your experience was bad but…


I did the same, I was moving and wanted to move to NTL after some bad experiences with NTL. Calling their 0800 number put me through to someone who was happy to tell me how great the service is and that the area I was moving to was serviced. They arranged a visit to install the line.
On the appointed day, there was no sign of an installer. So I called 'Mike' at NTL Oxford - he'd given me a direct number. He said there was turmoil because of the LoveBug virus - and that there was another problem they were having "problems allocating numbers in my area". His supervisor called me and said sorry for the delay but they would do it as soon as possible - the implication being that it would be a matter of days.
Not hearing anything after a few days I called again, and again, and again - either talking to Mikes voicemail or being passed around various NTL departments via the 0800 number. Eventually I spoke to Mike again - the phrase "problems allocating numbers in my area" actually means that the box in the street with all the lines in is full and I have to wait for either someone to give up their NTL line or for them to build a bigger box. The advice was that if I wanted a phone line I should try BT!
So they are basically a phone company who can't install phone lines in the areas they serve!
John Singleton
---

Well, I got hooked up without too much bother, 8 months ago, but I gave up getting my free ISP access CD, after 3 or 4 attempts by phone (long wait queues, and we'll call you back - "yeah, sure") and by email (an electronic acknowledgement, but no action). I'll be moving again soon, so no point in changing now.


M
---

Of course, there were also a minority of letters that didn't understand what all the fuss was about

---

Sorry to hear about your troubles with ntl. It will be no consolation to you to know that they've been just fine to me, esp after the nightmare of LineOne/quip. I had my CD weeks ago, after pre-registering, and had no trouble with their ISP service at all.


Better luck
Tom Metcalfe
---

I haven't had any of the problems with NTL you mentioned. They appear to be far better and cheaper than BT, I don't think I could ask for better service if I tried. BT however used to send me in circles for hours in there systems.


John Albrecht
Sponsored: Minds Mastering Machines - Call for papers now open